I received product from Our Hands For Hope, for my review. All opinions are my own.
I love finding companies that do something to better the world. When companies are socially responsible, it makes me feel even better about sharing them with all of you. I have a great company to tell you about today, Our Hands For Hope.
Our Hands For Hope believes in bettering the lives of others through holistic practices. They have partnered with women in Peru  to create one-of-a-kind knit fashions. These women live in extreme poverty. Purchases made from Our Hands Of Hope help them earn an income and better the lives of their family. Each item has been carefully hand-crafted using high quality Alpaca and Peruvian cotton yarns. You can read the full story on the Our Hands For Hope website.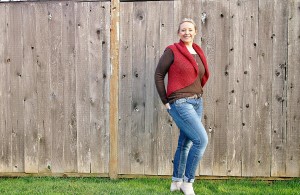 For my review, I received a Tina Shrug in the red medley color.
The Tina Shrug is beautiful! The material is soft and has a real luxurious feeling. The knit pattern is eye-catching. While taking my daughter to and from school, I was stopped a few times and asked about my Tina Shrug. The moms said that the knit pattern on the back is what caught their attention.
I started off wearing my Tina Shrug over a white v-neck long-sleeved t-shirt with jeans and booties. However, I will still a little cold and felt like I was missing something. I decided to add a brown sweater to the outfit. I liked the color combination of the red medley against the milk-chocolate brown. This outfit was casual and comfortable, perfect for a cold and rainy day in Oregon.
It is suggested that the Tina Shrug be hand washed or dry cleaned. I hadn't read this information when I laundered mine. Without knowing, I washed mine in the washer on cold and delicate; it came out just fine. Next time I will hand wash it though.
To learn more about Our Hands For Hope or to shop the knit fashions, please visit their website. You can also connect with Our Hands For Hope on facebook, twitter and pinterest.